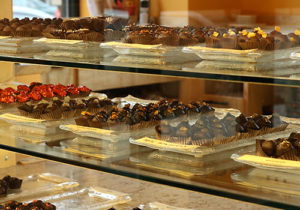 Chocolate lovers! We know you're super busy finding just the right gift for all your loved ones, friends and family. Of course, if you're here we're hoping you'll be sending the unmistakable joy of chocolate to them. We're busily fulfilling all those orders to make sure your holidays are sweet and your spirits remain bright.
Once that rush from now through December 25th has passed, we'll be sitting down for a well deserved, relaxing hot chocolate. While we're going full-tilt now (thank you for your support!), the week between Christmas and New Year's will be quiet. We will be sending everyone home to relax and recharge as we get ready for more good things in 2022.
We'll be fulfilling online orders as well as In-Madison Delivery through Thursday, December 23.
The year-ending week of December 27 through December 31 we will be closed. We hope you thoroughly enjoy this holiday season and we appreciate your business as we put a bow on 2021 and look forward to 2022!