Shipping & Freshness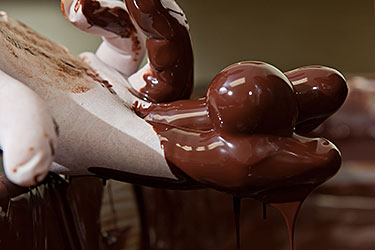 Good dark chocolate has an expiration date.
The best chocolate is fresh chocolate. Gail doesn't add preservatives, which change the flavor and texture of chocolate. For the best experience, enjoy Gail's chocolate much like you would bakery items — within two weeks is best and definitely within four weeks.
Store your chocolates in a cool, dry place, 60-70 ° F. Humidity should be within 45-55%. If your chocolates can't be eaten within two weeks, then seal in a reclosable bag and refrigerate them. When you're ready to enjoy, slowly return to room temperature to bring out the full flavor before eating.

• IMPORTANT: Shipping and Delivery
Gail's chocolates are made by hand in small batches to provide you with the freshest chocolate possible. We ship throughout the United States, including Alaska and Hawaii. But the big question is:
→WILL IT GET THERE BY FRIDAY?
Click this map thumbnail to see how long it will take UPS Ground reach your destination. Expedited shipping may be necessary.
– – – – – – – – – – – – – – – – – – – – – –
We don't ship at the end of the week because we don't want your chocolates waiting somewhere over the weekend. Orders placed after 12 noon on Wednesday (to destinations outside of Wisconsin and the Chicago area) will usually be shipped the following Monday. Regardless of the day of the week, if we don't think your chocolate will be delivered by Friday. We may hold it until Monday rather than risk a damaged product. Packages are shipped with a signature release, meaning that the package will be delivered to your door without a signature. If you are sending a gift to a warm location, please tell your recipient when to expect the delivery so their chocolate doesn't melt on their doorstep.
We are not responsible for missing, stolen or damaged packages after they are delivered to the address specified by the customer or for orders returned or delayed due to incorrect or undeliverable addresses.
If you have any special delivery instructions, please let us know at the time of your order. If the order is a gift, please include a message that will be included on the gift enclosure.
• Warm Weather  … or Why We Might Expedite Your Order
Since Gail's chocolates are free of preservatives, they begin to melt at temperatures above 72 degrees.* Gail's staff chooses the method of delivery that is the best for your chocolates to arrive not only on time, but in the most beautiful and delicious condition.
We cannot be held responsible for melted chocolate, although it's our utmost priority to ensure your delivery is successful. To that end, we may contact you to upgrade to 2nd Day Air or Next Day Air shipping if the delivery location is projected to have a temperature above 72 degrees.
All orders between May 1 and September 30 are packed in ice to ensure the quality of our chocolates en route to destinations warmer than 72 degrees. Without On Ice shipping we cannot prevent melted chocolates.
ABOUT THE CARRIER: UPS handles our shipping needs. Using UPS allows us to provide reliable delivery of our chocolates and more competitive shipping rates to benefit our customers.
☞Important update: UPS SERVICE ALERT UPS is open for business: Service impacts related to Covid-19. Effective March 26, 2020 and until further notice, UPS has suspended the UPS Service Guarantee for all shipments from any origin to any destination.
UPS Rates:
· Ground — rate based on weight ($10-18)
· 2nd Day Air — rate based on weight/location ($20-40)
· Next Day Air — rate based on weight/location ($50+)
* If the forecasted temperature is over 72 degrees at your order's destination, we will add ice and insulation at no extra charge! However, we may contact you to suggest expedited shipping when necessary. This will ensure your chocolates arrive in their most delicious condition.
Delivery can be expected in 2-10 days. Most packages within Wisconsin and to the Chicago area arrive the next day and do not require expedited shipping. If you are shipping to a more remote area of Wisconsin, such as the Apostle Islands, standard delivery may take longer than a day.
Orders going to Alaska or Hawaii must be shipped via 2nd Day Air or Next Day Air shipping.
• Advance Orders
We encourage advance orders as well. To request a future delivery date, please specify when you would like your order to arrive in the Special Instructions box during check-out. Please note that we do not provide Saturday deliveries.
• Allergy Information
Gail uses various types of nuts in her kitchen during the creation of her chocolates. In addition, some of the chocolate used in her products contain soy lecithin as an emulsifier. While we do our best, if you are allergic to soy, tree nuts or peanuts, we strongly recommend that you don't eat her products. Most of the truffles contain cream or milk, meaning they are not appropriate choices for people with dairy allergies. However, the solid chocolates do not contain dairy and are therefore also vegan. Most of Gail's chocolates are gluten-free. View the Allergen Guide.