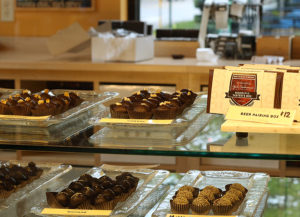 After much deliberation and with confidence, we have decided that the most socially responsible step forward for our staff, customers, vendors, and loved ones is to put production on hold and temporarily close all of our operations Friday, March 20 at 6pm.
Our tentative plan is to be closed for two weeks and reopen in a limited capacity on Saturday, April 4.
---
With much HOPE, our plan is as follows:
• If you would like to stock up on any chocolate items or even Easter products before our closing on Friday, March 20, here is what we are offering: Quick purchases and pick ups in-store with contactless pay options. Over the phone & online ordering for in-store pick up. Complimentary, next day doorstep delivery in Madison for orders $20 and over, placed before 3pm. Mail orders placed prior to Friday, March 20, will be shipped via UPS. Friday, March 20 at 6pm, ALL operations will be shut down.
• During the 14-day shut down, our staff will be HIGHLY encouraged to self quarantine and social distance themselves from others. These two weeks will be extra paid sick leave for all employees. After 14 days, those who are unable to maintain social distancing will be asked to stay home. If any symptoms of illness are present, they will continue to stay home. Those that are uncomfortable coming back are encouraged to stay home.
• RE-OPEN, Saturday, April 4 with curbside pick up, mail order shipping, and complimentary to your door delivery in Madison. Our storefront and in-person purchases will be on hold until further notice.
---
In the 14 days we are closed, we ask that you do what you can to support all local small businesses and staffs that make Madison so EXTRAORDINARY! This is a challenge unlike anything we have faced before but together (6ft apart ?) we can get through it.
Over the past 15 years we have turned this place into our home and you, our family. We have much to be thankful for but at the very top is every person that has shared our passion for chocolate!
Take care of yourselves, stay healthy, and be kind to one another! We look forward to seeing you soon…