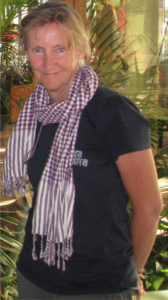 Hi, I'm not Gail, I'm Debra.
I came to work at Gail Ambrosius last fall as seasonal help in the kitchen and I'm back again this year, up front selling those wonderful chocolates. I've been asked if I'm Gail, at least once a day, so I thought I'd tell you who I am.
I moved here three years ago from California to live in beautiful Madison where my daughters and grandchildren live. I'm loving the lakes and the seasons and the snow and the friendly people. I like to think of life as an adventure just waiting for us to join in.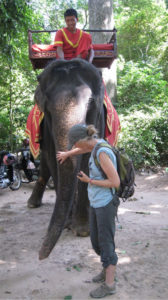 Last year I went to New Zealand in February. From there I went over to Asia, spending a month in India and a month in Cambodia. I love traveling and living with people in other cultures, I had wonderful opportunities to meet many beautiful people. The world is an incredible place and people are amazing everywhere you go.
For now, I'm loving working at the Gail Ambrosius shop, eating and selling their delicious truffles, and watching people smile as they leave the shop with their boxes of chocolates. In January, just after my 60th birthday, I'll be off again traveling the world. I'll return to Madison in July to enjoy the end of the summer and colorful fall, and maybe see you again next year. Life's an adventure, enjoy yours — live well, laugh often, love much, and eat lots of chocolate. 🙂