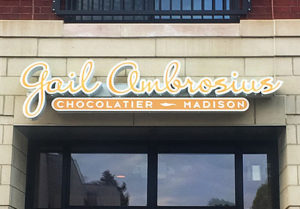 Thank you so much for the continued support YOU have shown our business all summer and fall. The page now turns towards our busiest season. Although this year will be different, for sure, we will continue to spread cheer with chocolate far and wide!
The liveliness of our business depends on the safety and health of our staff and customers. With this in mind, we are offering window shopping with curb-side pickup, shipping, and deliveries in Madison. The cozy retail space will remain CLOSED. We encourage you to place orders in advance online or by calling ahead, 608-249-3500.
If you have not placed an order in advance, it is possible to place and pick up an order the same day. We have large printed menus that are posted on our shop windows to assist with on-site phone ordering. Just give us a call and we would be happy to put something together in a few minutes while you wait outside.
If you have a large gift order (more than 10 boxes), please provide at least one business day for fulfillment. For those interested in corporate gifts for clients or employees, please email our general manager, Isaac (isaac@gailambrosius.com) — he will be thrilled to help!
---
► Business Operations Through the Holiday Season…
• The store will be "open" to place orders and for pick ups: Monday-Friday, 10am-6pm; Saturday, 11am-3pm; CLOSED on Sundays
• The retail space remains CLOSED to the public.
• Starting on November 28, In-Madison deliveries will be made on Saturdays through December 19 (qualifying zip codes can select "In-Madison Delivery" as your shipping option during checkout).
► More about In-Madison Delivery…
For In-Madison Delivery, we will make a maximum of 30 deliveries per week. Once there are 30 deliveries on the Saturday delivery schedule, curbside pick up is your next best in-Madison option.
A minimum order of $25 is required for In-Madison Delivery. Madison, Monona, Middleton, Fitchburg, Verona. Only valid zip codes will be accepted online. Saturday In-Madison Delivery dates are: 11/28, 12/5, 12/12, 12/19.
---
Your support during this time is very much appreciated. As a small staff, we are going to work as hard we can to keep up during this busy season. There will surely be times when orders get backed up and phones are busy, so we just ask for your patience and understanding. Together we will make this another vibrant and delicious Holiday Season… full of Peace, Love, & Chocolate.
— Gail Ambrosius Chocolatier